The row between the wireless and aviation industries on the potential interference between 5G and aircraft radio altimeters is building momentum. With over 38 countries having launched or planning to launch 5G services in the mid-band spectrum (3.7-4GHz), many are asking what remediations are required to avoid interference. This study looks at the potential interference between 5G towers and radio altimeters on aircraft.
With growing pressure on regulators to not only auction spectrum bands for 5G services but to roll out services quickly, mitigation approaches to reduce the impact of 5G towers on radio altimeters have emerged. A longer-term solution for airlines would be a complete refit of all existing radio altimeters but this is both time consuming and expensive. Another would be to roll out 5G away from the airport. Given many operators have paid a premium for their spectrum rights, putting in restrictions for rollout might be a bitter pill to swallow. However, creating a temporary exclusion zone around an airport would prevent the incursion of signals from 5G towers and would allow safe areas to be identified where towers could be located.
The radio altimeters operate in the 4.2-4.4GHz band and the problem surrounding interference is well understood. However, until altimeter upgrades are available or alternative approaches are found, 5G rollouts near airports may be halted. In addition, many altimeters are failing due to poor ACS, as a result of the receivers being designed in the 1980s. Attention needs to be given to the flight altitude and route during take-off and landing, along with the cumulative interference effect and not a single interferer at any one time. Spurious domain emissions (from the 5G tower into the radio altimeter) have also been highlighted as an issue, although these can be mitigated by distance separation.
So what advice do ATDI have for remedying this issue? Using HTZ Communications, ATDI's flagship radio modelling software, we can predict the proposed exclusion zones around an airport, enabling network operators to gain approval for their network rollout. To achieve this, HTZ supports the following functions:
Ability to model all routes (altitude, take off, landing and approach) – Flight tracker mode
Identify exclusion zones, where 5G rollout is prohibited
Simulations based on cumulative spurious emissions and blocking (due to ACS)
Ability to reject/accept a 5G site near the airport.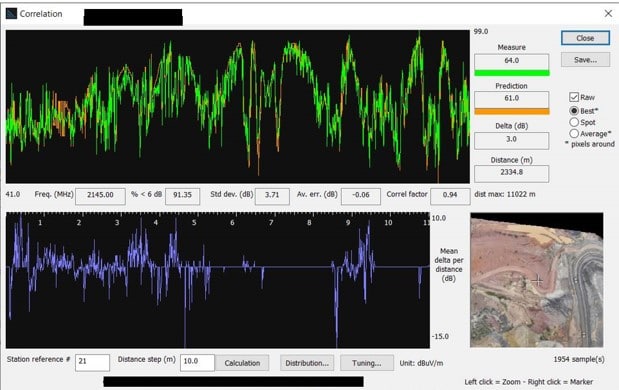 Radio Altimeters
A radio altimeter is an airborne electronic device capable of measuring the height of the aircraft above terrain below the aircraft. Most civil and military aircraft use radio altimeters to measure an aircraft's altitude and feed this information to other aircraft systems such as landing and collision avoidance systems. Radio altimeters also measure the time between transmission of a radio signal from the aircraft and reception of the reflected signal.
Radio altimeters use an antenna design that provides 8-13dBi of gain and between 35-60 degrees of coverage to the 3dB point (half power) of the antenna pattern.
Radio altimeter protection criteria are set out in ITU guidelines.
A webinar will cover this topic in the second quarter of 2022. Keep an eye on our events page.