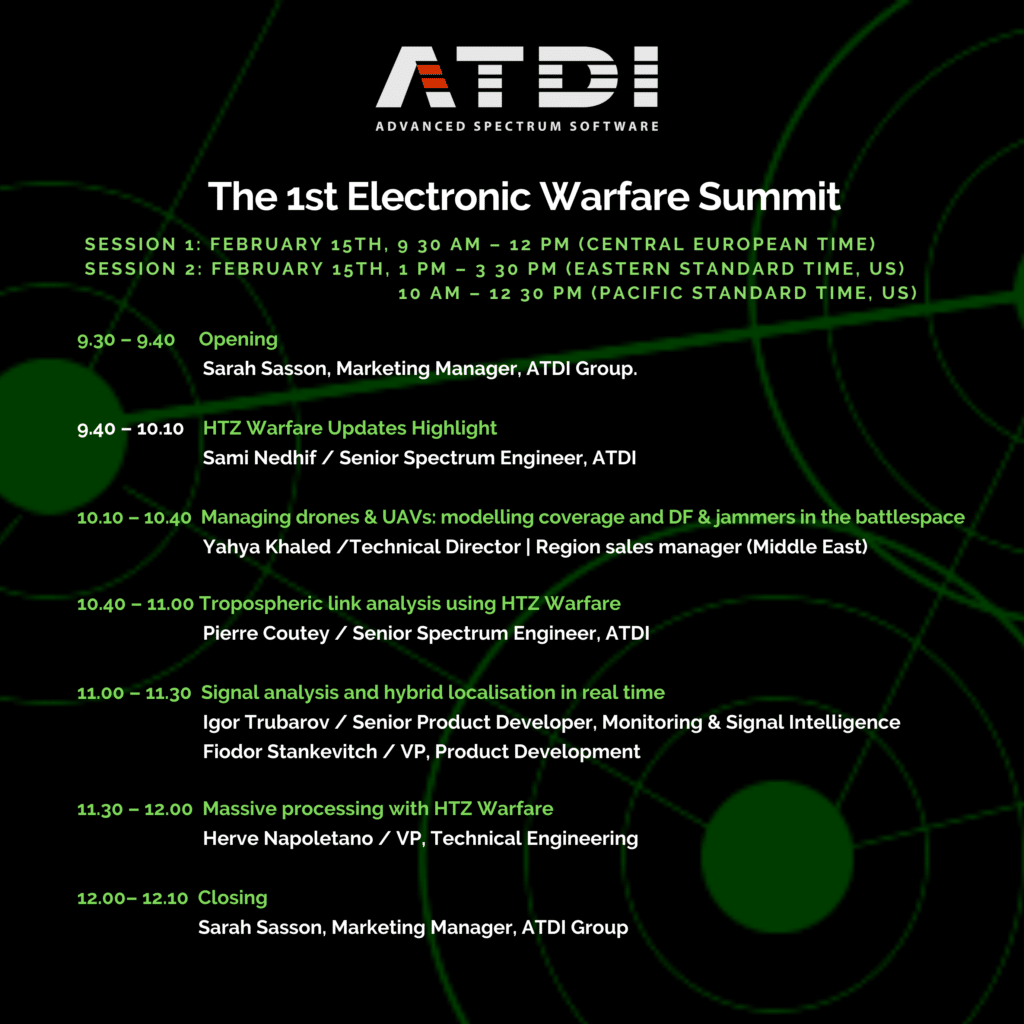 ATDI extends a warm invitation to our annual Spectrum Management Summit. This half-day event focuses on topical issues relating to spectrum management and our latest software solutions. The online sessions combine a series of presentations and live demos from subject experts across the team.
Attendance is free. Delegates should register for the session in their preferred time zone.
Want to receive the post-event recording? Register and a link will be supplied after the event.
Dates: Wednesday 15 February
Times:
Register for Session1: 09.30hrs CET
Register for Session 2: 13.00hrs EST /10.00hrs PST

Delivery: Zoom
Program Overview
Session 1: Managing drones - modelling coverage and DF and jammers in the battlespace
Drone use is on the rise with significant numbers used for offensive and defensive manoeuvres in the battlespace. This session will demonstrate how to plan, simulate, and optimise anti-drone systems. Using HTZ, the presenter will cover the wealth of features available to support this capability. The session will broadly cover the following points:
Use of GIS datasets to support planning and modelling
Direction Finding (DF) coverage modelling and analysis
The use of DF localization accuracy maps
Camera visibility analysis
DF location optimization
Jamming analysis to ensure mission success
Radar modelling and analysis
Jammer Vs RDF – interference analysis What is RDF
Radar to Radar interference analysis
Location optimization to mitigate interference
Frequency optimization and conflict resolution
The functions shown in this session can be applied to military and civil domains, supporting information gathering as well as their use at large, outdoor events and protecting sensitive areas like airports.
Session 3: Tropospheric link analysis using HTZ Warfare
This session will demonstrate the simulation of microwave links with tropospheric technologies using the ITU 617-5 propagation model. The live demo will use HTZ Warfare to show how to use a mixed propagation model to consider the diffraction and deflection of the edge of a building or mountain. It also covers the right angle of the microwave link to spread the electromagnetic waves to receive them in the best condition.
This session targets military personnel but has applications across the civil domain. The functions supported in HTZ provide user-friendly, intuitive controls to set up simulations, analyse the results and make informed decisions about your MW system.
Session 4: Signal analysis and hybrid localisation in real time
This session looks at ATDI's unique real-time analysis software for radio spectrum monitoring. This unique vendor-neutral solution manages high volumes of measurement data, with efficiency improvements based on the task list increases.
The demo addresses key issues like signal analysis, alarming, localisation and managing real-time operations.
Session 5: Massive processing with HTZ Warfare
This session will demonstrate how to leverage the massive processing capabilities in HTZ Warfare to perform coverage calculations for large numbers of stations. Using the built-in multi-core/multi-session features, users can perform calculations directly from the map rather than via the station database. This new feature is a direct result of customer feedback.
The live demo covers -
- Using the remote simulation feature from the database
- Using the remote simulation feature from the map
- Comparison of computing times when performing the same calculations but station by station
- This time-saving functionality features in HTZ Warfare and HTZ Communications