Check out a selection of the new functions in this month's release: HTZ v.2023.7.1. Users can download this latest release via the customer portal. If you have any questions, please get in touch.
Interface – Dynamic display – improved information featuring DTM projection code, coordinate code and DTM steps in meters.

Interface – Station / Subscriber parameters – the ability to select the power unit (W/dBW/dBm/kW) for stations and subscriber parameters. Click on the button to switch the unit and, once selected for a given station, it's applied to all other stations and subscribers. The subscribers will inherit the unit from the one selected for the stations.


Broadcast – SFN launch delay assignment – Addition of a filter based on population points (from 16 bits raster file). If this option is selected, the launch delay assignment will try to minimise the number of inhabitants interfered with.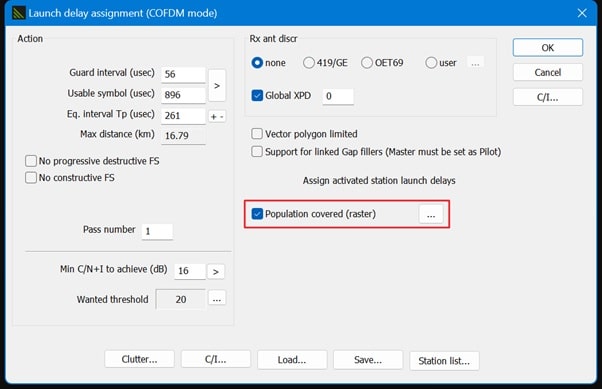 Interface – Polygon count/count stations – This feature counts the number of activated/deactivated stations inside a polygon.
Interface - MW links - An FD/2+0 (MHz) button has been added to the MW links parameters (under the General tab) with two configurations available:
- FD (MHz): the second frequency will be considered as a diversity frequency.
- 2+0 (MHz): the second frequency will be considered as a second independent frequency.
Users can switch between the different configurations.