Catch up with the latest product updates in this months' product demo. The recording takes you through the latest features and functions for developments in HTZ Warfare and HTZ Communications.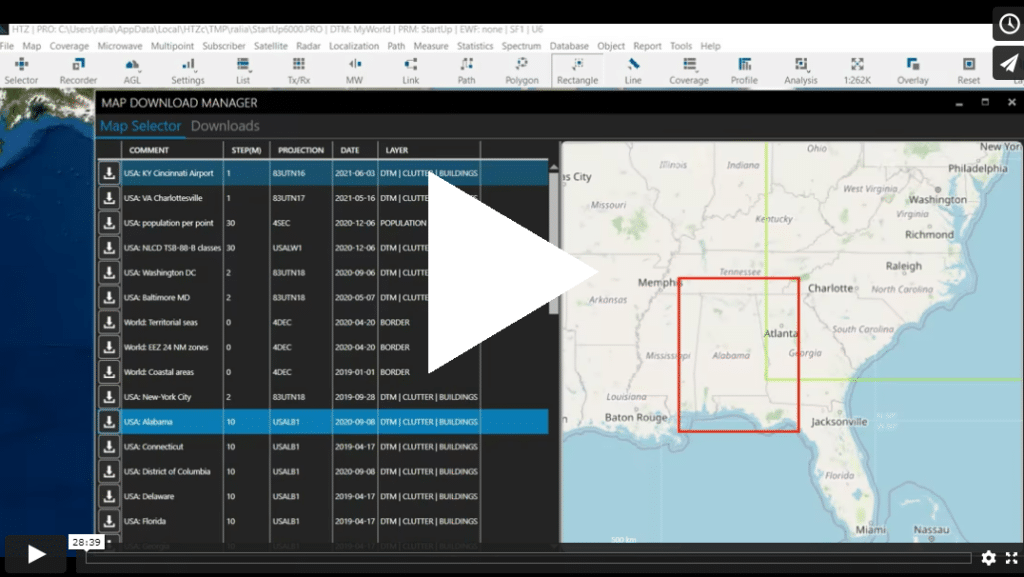 0:00 Radar simulation – allows users to set the pulse compression ratio parameter of the radar. The maximum range will be computed accordingly. 
2:00 My Location – display the user's real location or the PCs to display on a map either statically or dynamically. This feature also allows the user to move a station to My Location with ease.
3:40 Propagation models
Deygout 94 – version 1 is no longer available in the latest release due to incompatibilities. Tests confirm that the differences between version 1 and version 2 are minor. Users should use either Deygout 94 (original) or version 2 moving forward.
ITU-R 1546 – provides coverage and profiles for up to 90% of the time. This latest implementation is in line with ITU recommendations.
5:55 Spectrum management – Net ID frequency check has been modified to allow users to search more efficiently for a new frequency or for an existing site. The software checks for interference at the point where interfered, and defines viability according to the results. This function checks for potential frequencies for use across multiple technologies.
8:50 Database/Station – Remote simulations – opens an unlimited number of sessions using remote simulations to reduce overall computation times. Additional sessions or CALs are linked to the number of licenses but this latest feature allows users to access an infinite number of instances for coverage calculations initiated from the database. The limitation will come from the hardware (RAM size and number of cores available).
10:43 Action codes - offers automated processes for RF coverage prediction and analysis. New action code 1028 imports stations from an SQL database to enable composite coverages to be displayed on a map. A full list of new and existing Action codes is available here or via the CRM.
A full list of the latest developments in HTZ Warfare and HTZ Communications are available here.