Customer: Undisclosed
Location: NSW, Australia
Challenges:

Understanding the impact of a proposed footbridge on a GSM-R network is essential to railway communications, allowing the network operator to identify potential risks and mitigation solutions before the development starts.
Approach:
Using HTZ Communications, ATDI completed a coverage degradation analysis for a network operator in NSW, Australia.
Solution:

The figure below shows the signal reception levels along the track in dBm. The colour code identifies restrictions to signals from a given distance, with the area in green receiving no coverage.
The impact is further evidenced below, which shows the capture of the signal level before and after the introduction of the bridge. These images show the simulation of the new footbridge with the blue identifying the signal level before and the red after.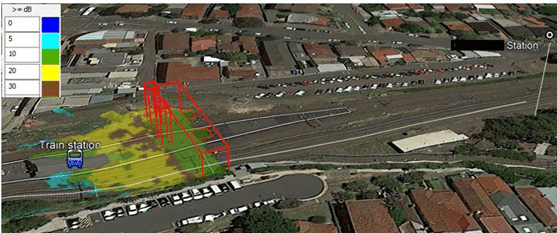 Conclusion:
Ensuring new structures do not encroach on communications networks is essential to train operators from a health and safety perspective and ensuring that safety-critical networks are resilient and not impacted by interference.
For full information on HTZ, please contact your local office.