Wishing all our readers a warm welcome to this month's Newsletter.
We'll be looking at the latest new and improved features in HTZ. Users can access this recording and several other videos via our video channel. Viewers can also see our Managing drones - modelling coverage, direction finders and jammers in the battlespace webinar. This recording demonstrates how to plan, simulate, and optimise anti-drone systems using HTZ Warfare. Our last recording covers managing incoming Earth station coordination for satellite services.
We visit our Sydney office to learn about modelling the impact of new bridges on GSM-R networks and look at projects underway in the Broadcast sector.
The ATDI team will be attending leading industry events this month. Check out our exhibition schedule below and contact us to set up an onsite meeting or demonstration.
HTZ Updates - 2023.3
Catch up on all the latest new and improved features in HTZ. This month sees the release of a series of features made available to users with a valid maintenance contract. Version 2023.3 is available to download via the CRM.
SPECTRUM MANAGEMENT - Click here
NEW – Threshold limited polygon: GE06 Geometrical contours have been added as a test point for compatibility with assignments and allotments. Lists of test points are generated by GE06 but in their absence, they can be generated within HTZ.
MODIF – Spectrum / Constraints: Max build-up from clearance. This checks the max. height of new buildings that can be added to a polygon while not impacting or reducing the coverage of existing stations or radars. The heights can be specified in the polygon with AGL or ASL reference.
NEW – Station Parameters / Site tab - Country selector added: able to add a reference country for each station across a project for coordination purposes. Identifies foreign and home stations.
MODIF – Statistics / Coverage map / Stations to Virtual Rx: calculates within a polygon only. Checks interference created by a given network of stations where all stations are interfering. Using a directional antenna like a satellite station and with the discrimination applied, it calculates the interference from all other stations. The new feature limits the area computed and reduces calculation times.
INTERFACE - Click here
MODIF – Object / Site coordinates / Update station antenna height: This function derives the antenna height from the difference between the reference altitude and the ground altitude of the DTM. For example, the SNS DB only provides the altitude of the antenna while this option provides the antenna height above ground level.
NEW – Import SQL/EWX: When importing from external DB or ICSM, the -Za option saves the antenna height above sea level, not ground level.
CCTV - Click here
NEW – CCTV coverage: distance calculator. This considers the max. range and visibility by considering the resolution of the camera and the number of pixels required for detection.
NEW – CCTV Coverage - option coverage added: The addition of three ranges (up to 32 km) which check the different ranges and how they correspond to the images. These include detection, recognition and identification of objects.
MOBILE - Click here
MODIF – The "RS threshold (dBm)" parameter has been added for 3G, 4G, 5G and NB-IOT stations. The "RSRP/RSCP threshold from station" option has also been added to the Threshold settings. If selected, the RS threshold will be extracted from each station's parameters. If not, the global values set for 4G RSRP, 5G RSRP and WCDMA RSCP will be used.
MODIF – GSM-R Profiles + C/I and IRF tables – when a profile is selected the protection ratios and IRF tables are automatically updated. Option to select these parameters directly.
P2P/P2MP/MW links - Click here
NEW – Multipoint / Linked Station parameters. The "Assign lowest antenna heights" option has been added. If selected, the antenna height of each activated station will be updated with the minimum antenna height required to communicate. The range of antenna heights must be defined (min and max allowed) and the step is 1m.
NB: For this feature, the "Settings" (Slave is linked to Master to Master is linked to Slave) are not used.
Counter-drone measures – how drone-filled skies are changing the battlespace
Russia's attack on Ukraine kicked off Europe's most significant conflict since WW2, with both sides deploying drones at an unprecedented scale. Drones undertake aerial reconnaissance, carry weapons or are used as weapons themselves. The threats posed by drones have led to the significant expansion of counter-drone activities. The use of electronic warfare during the conflict has been prevalent, with counter-drones aligning closely with electronic countermeasures. To reduce drone attacks, military organisations are turning to ATDI to ensure their jammers and counter-drone activities are optimised to protect from incursions and threats to their airspace.
Counter-drones and jammers intercept unmanned aircraft or UAVs while in flight. Using HTZ, drone operators calculate their network coverage and identify not-spots across their network to reduce the risk of lost comms. HTZ undertakes an in-depth analysis to understand the signal strengths from the controller to the drone based on different elevations across the network. The counter-drone efficiency analysis provides network coverage based on various height elevations or potential flight paths of the unauthorised UAV. These coverage calculations identify areas with poor signal coverage due to topography and building heights, which could restrict the counter-drone's ability to block or jam signals.
Check out our latest webinar recording on Managing drones - modelling coverage and DF and jammers in the battlespace. This session demonstrates how to plan, simulate, and optimise anti-drone systems using HTZ Warfare. Click here.
Frequency Coordination in HTZ for Incoming Earth Stations
Watch ATDI's latest video guide on performing frequency coordination for incoming ITU Earth stations in the 28 GHz band. The 20-minute tutorial provides step-by-step instructions for the coordination process in HTZ. NB. The import process has been automated to speed up the coordination process, with HTZ importing ITU SRS database version 9 and 9.1 to ensure the efficient and accurate coordination of frequencies.
Get in touch today for more information about this process and other satellite functions.
Simulating the impact of interference on GSM-R network from new structures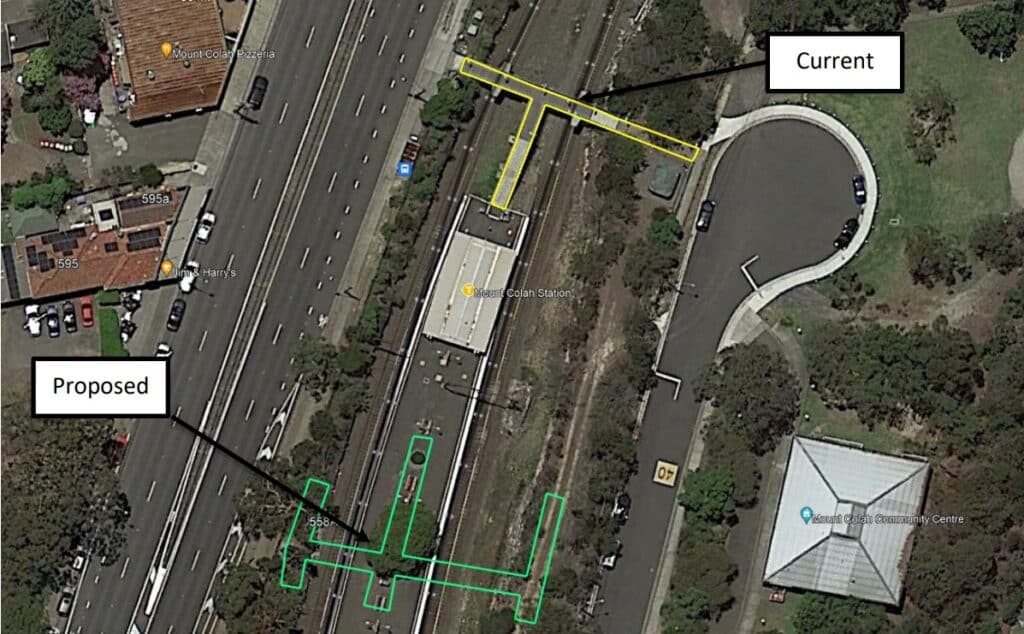 Modelling the impact of new structures on network performance is all in a day's work for ATDI. Sydney Trains commissioned ATDI to evaluate the impact of a new footbridge on the existing DTRS coverage throughout the railway corridor in the North Line, Sydney and establish mitigation measures.
The team created a baseline simulation to establish a comparable model with the current signal levels. This showed the alternating servers along the line with the competing signals triggering handover protocols around the new footbridge/station. When the new bridge was added to the simulation, changes were made to the surrounding clutter and measurements supplied by Sydney trains were added to show the signal shadowing and estimated signal loss. The impact of the new bridge showed reception levels barely met the -95 dBm minimum requirement. Further signal degradation came from the trees on the north side of the new bridge.
When comparing the before and after models, it was clear that the already competing signals faced further handover issues from the new bridge. This issue was worse for slow-moving or stationary trains on the upline, resulting in dropped calls.
Once the simulations were complete, ATDI proposed several mitigations to improve overall coverage and reduce dropped calls. The team recommended making one sector the dominant area by adding a new base station or a low-power repeater close to the station. Any changes to antenna orientation and tilt were ruled out, as they failed to make any noticeable improvements.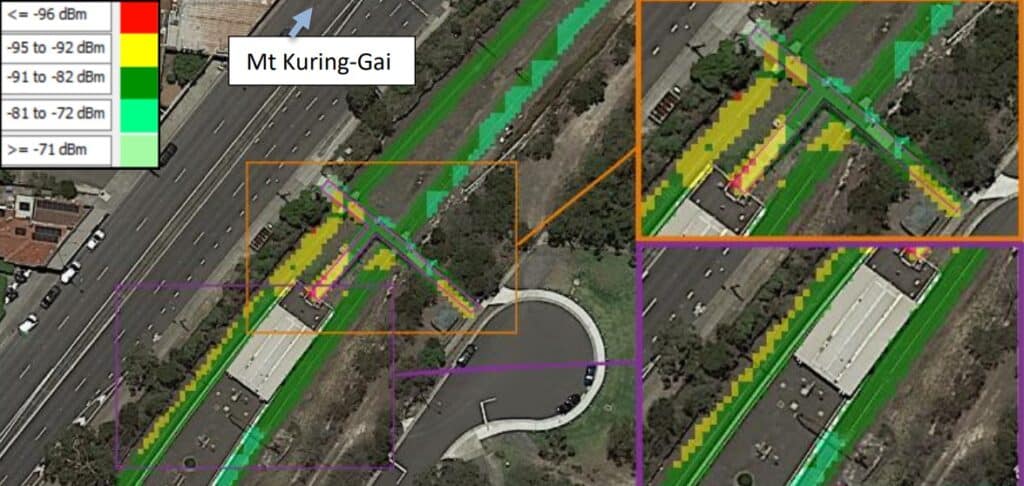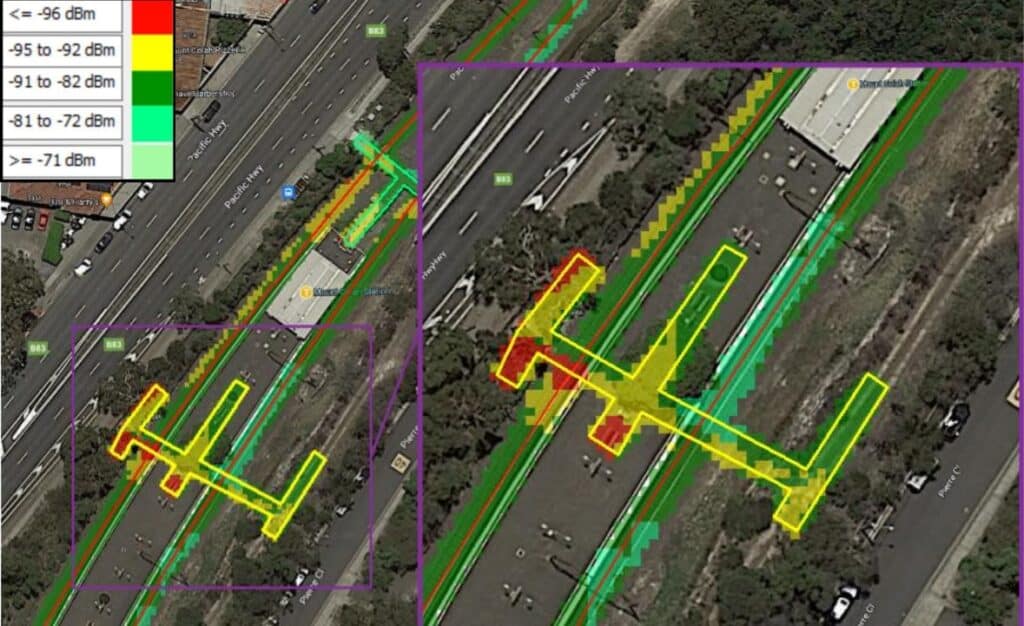 For more information about radio performance analysis due to obstacles in the target areas with HTZ, contact us today.
What's new in Broadcast
With over three decades of industry expertise in our pockets, ATDI continues to offer a wide range of software solutions and services to the broadcast industry. This month's newsletter looks at a few of our latest projects.
NTC, Philippines chooses ATDI for their broadcast coordination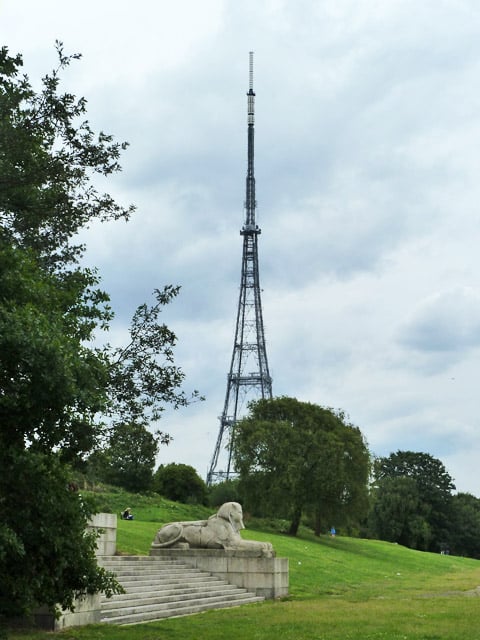 The national Philippine regulator, NTC contracted ATDI for our spectrum management solution which includes HTZ Communications, ICS manager and professional services to establish a unified, centralised DB for broadcast spectrum management.
The digital switchover in the Philippines is underway with the majority of the country's households due to switch off analogue services later this year. The digital switchover is set to improve reception quality for the nation and will pave the way for broadcasters to deploy new equipment.
About ICS Manager
ICS Manager is an automated spectrum management solution for spectrum regulators and radio network operators to improve spectrum use and automate systems. It supports the management and optimisation of the spectrum, enables frequency sharing, and automates frequency assignment. It contains a data engine that manages data logically and hierarchically for consistent and reliable results. ICSM is compatible with ATDI's RF planning software, HTZ Communications and tactical mission planning software, HTZ Warfare.
ATDI continues support for UK Small-Scale DAB
ATDI understands that at the heart of community radio is the dedication and enthusiasm of its radio team. To support the growth of this vital service, ATDI has supported local community radio stations to submit their license applications, which require candidates to provide coverage prediction maps for the proposed DAB network. Awarded by competitive process, license award conditions are based on the 'best fit' criteria. Each small-scale radio DAB license is granted for seven years and permits the broadcast of DAB digital services and stereo radio stations.
With Round Four currently underway, ATDI continues to offer broadcasters the opportunity to enhance their applications and build their business case.
For decades, ATDI has provided spectrum engineering and management solutions to Ofcom UK across various spectrum management areas including broadcasting coordination and license management.
ATDI drives technology evolution with their industry partner, SixArms
Drone-based antenna measurements; techniques for predictive modelling and verification

ATDI has been working with Australian Drone-measurement company, SixArms on emerging technologies for measuring antenna patterns to improve network performance, support prediction correlation and permit model tuning. ATDI and SixArms delivered a comprehensive webinar at ABU-DBS 2023 to discuss the benefits of using drones to measure antenna patterns and cover the entire lifecycle of network measurement. Key features covered include:
Analysis and validation of radio power including the workflows and processes, what equipment is needed and how to process and visualise the data.
Creating coverage predictions based on measured antenna patterns, plus antenna modelling, link budget analysis, DTV coverage and population coverage analysis.
Validating coverage measurements using field strength measurements, and correlation of predictions and actual measurements.
To view the recording for this webinar, click here.
Upcoming Events
Attending leading industry events lets us meet and connect with customers. Our experienced team members demo our solutions and offer a trial licenses. Please schedule your visit to our upcoming events. contact@atdi-group.com
AOC Europe – 15-17 May – Bonn – Stand B2 – AOC attracts visitors from across the western hemisphere and focuses on the latest advances in the electromagnetic and information-related domains. Join the ATDI team to learn more about our EMS solutions including drone management and spoofing solutions.
CASBAT – 16-18 May – Dubai – Stand S1/A30 – Join the team at the largest broadcast expo in the MEASA region. The ATDI team will demonstrate the latest features in HTZ for network planning and modelling every broadcast technology.
FEINDEF – 17-19 May – Madrid – Stand 8/B17B – Feindef 23 promises to attract leading defence and security professionals from across Europe. The ATDI team will be exhibiting at this event, demonstrating their leading EMS solutions.
CCW – 23-25 May – Helsinki – Stand K58 - Join the ATDI team at this leading public safety and transport event for three days of inspiration, knowledge and connections. Learn more about our essential critical comms solutions for network management and planning.