As global decision-makers finalised agreements at the close of COP26, it will be interesting to see what role 5G and the wider community will have in accelerating the path to net-zero. Policymakers were urged to support the faster deployment of 5G and the adoption of 5G technologies. It is forecasted that these technologies will reduce carbon emissions for leading industries such as manufacturing, transport, agriculture and energy.
In this months' Newsletter, we discuss the 5G network rollout for the smart city of Sunderland, UK and look at how air to ground networks will leverage 5G technologies to support developments in the aviation sector.
We're hosting our first annual Spectrum Management Summit is on 1 December. Registration is open, sign up today.
Lastly, check out our product update highlights and video. For any software updates and maintenance contract renewals queries, please contact us.
PRODUCT UPDATES - HTZ WARFARE & HTZ COMMUNICATIONS V. 23.4.2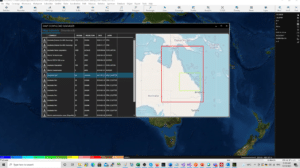 Catch up with the latest software updates in this months' product demo. The recording takes you through the latest new and improved functions in HTZ Warfare and HTZ Communications.
This months' updates include an improved OTM feature to check the efficiency of a mobile jammer along a vector path, a host of spectrum planning features including GE06 conformity for broadcast coordination and coverage overlap feature and various interface functions. A new action code for CCTV coverage is also available.
A full list of the latest developments in HTZ Warfare and HTZ Communications are available, here. Visit our Vimeo page for our latest video recordings.
5G SUPPORTS INNOVATION IN THE AVIATION INDUSTRY
Across the aviation industry, we're seeing traditional air to ground stations (A2G) used for private LTE and 5G networks. This emerging technology offers an infinite number of opportunities for new applications and wireless network uses to industry. This article looks at the flight tracking feature added to HTZ which analyses the impact of altitude, roll, pitch and heading of the aircraft, and analyses its effect on the DL/UL (thresholds) connections and the interference between A2G stations and the aircraft.
For the full report of the latest Flight Track feature added to HTZ, click here.
COMPATIBILITY BETWEEN BROADCAST & INSTRUMENT LANDING SYSTEMS

Learn how ATDI designed a private-5G network for BAI Communications to support their partnership with Sunderland City Council. The network plans will accelerate the development of the UK's leading smart city. For the full network deployment story, click here.
NETWORK COVERAGE ANALYSIS AT OIL REFINERY
ATDI conducts an RF study for a leading gas refinery to evaluate the impact of relocating a TETRA base station. The study analysed the impact on coverage at the Shaybah refinery, which has been extracting natural gas liquids (NGL) since 2015 and operates in one of the harshest regions of the earth.
To learn more about this study, click here.
JOIN THE ATDI TEAM AT OUR 1ST ANNUAL SPECTRUM MANAGEMENT SUMMIT
ATDI extends a warm invitation to our annual Spectrum Management Summit. This event provides a platform for spectrum regulators and industry players to discuss topical issues relating to spectrum management and the latest solutions developed by ATDI and their solution partners.
Date: Wednesday 1 December 2021
Time: 9.15 am GMT
Delivery: Zoom
Register today.
JOIN THE ATDI TEAM AT THE 58TH AOC INTERNATIONAL SYMPOSIUM AND CONVENTION
Join the ATDI team at the 58th Annual AOC International Symposium. We'll be showing the dedicated military features like EW sensors, drones, radio jammers and radars, along with how to build tactical, self-healing radio networks. Sign up today.
Date: Nov, 30 - Dec, 1 2021
Location: Washington, DC.
Register today.